This has been a big couple of days. It started yesterday morning at 4:30 am, getting on the road to make it to Barstow to meet up with Kay and Bob from Washington State. We were on a mission.
The mission: to complete the Route 66 Power Trail from Barstow to Needles over 2 days. What is this Power Trail I hear you say.
The Route 66 Power Trail is 800 geocaches hidden by Team Stevecat on the Route 66 Highway over a 126 kilometre section between Barstow and Needles, California.
The trip up to Barstow for me was uneventful but for the LA bound traffic it was a carpark due to a crash and fire on the inbound lanes of the I-15 near Cajon Junction. In another hour the sun started to come up.
My first stop was to Lenwood to pick up Kay. Her truck had suffered mechanical issues with a broken drive shaft so she was camped in her caravan at the Repair Shop. Repairs were going to take a couple of days so perfect timing to tackle the trail.
It was next into Barstow to the Days Inn to meet up with our driver, Bob. After a quick meet and greet, we were on the road to the first cache which was still 45 kilometres away past Newberry Springs.
It was time to start caching after some photos at Cache #1.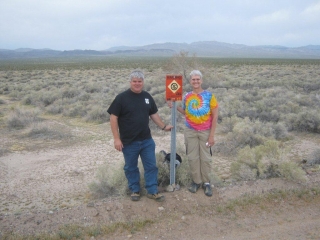 The weather was perfect for a run like this with the temperature around 20 degrees, overcast and a slight breeze. It would stay like this most of the day but on Day 2 the temperatures were slightly higher and less cloud.
It didn't take long and we had a system running with Bob driving to as close as possible with Kay and I alternating going out to grab the cache while the other wrote on the log.
It was made easier by us finding duplicate cache containers in some of the early caches. The extras would have occurred when teams on a quick run through not finding a cache within a couple of minutes putting out a replacement. Some of the extras were within one metre of the original. At the end of the 2 days we ended up with 6 extras which have come back to Australia to form a mini Route 66 Power Trail.
The route paralleled the I-40 as well as the Union Pacific Railroad – both of which were very busy with "tractor trailers" and freight trains respectively.
By the end of yesterday we had passed through Ludlow, Bagdag and Amboy stopping at Amboy Crater on the way. The whole area around Amboy was volcanic in days gone by. These towns are near on ghost towns now as most of the traffic moves through on I-40.
Just after Amboy, we found cache #500 and since it was now dark decided to call it a day and head back on the I-40 to Barstow and crash for the night – we were exhausted. We had found 508 caches for the day and there were still 300 more caches to find with 150 kilometres to drive back to the hotel.
Today was Day 2 on the Trail and we were not as enthusiastic as yesterday. With 150 kilometres to drive to pick up the Trail, we stopped off at a few other geocaches along the way to break up the journey, finally arriving at Cache #501 around 11:30 am. Today was a little warmer and the sun was out but it was still pleasant caching weather.
There were a few side journeys to pick up other caches but most of the day was spent doing the 300 caches left to go. Again there were a couple of towns of years gone by to go through – Cadiz and Essex, traffic was light and once again it got dark before we had finished.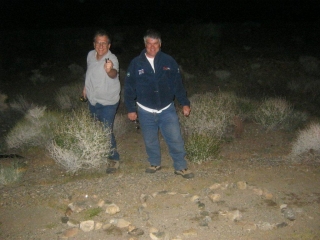 Cache #800 was found at 7:45 pm. We had not finished yet as there were a number of thankyou caches to do before getting back on the I-40.
There was also the drive of 180 kilometres to pick up my car at Barstow then drive another 160 kilometres back to Placentia. I slept most of the trip back to Barstow, farwelled Kay and Bob and returned to Placentia just after midnight.
Team Stevecat has put together a video of the Route 66 experience found here – Route 66 – 800 Caches
It had taken two days but what an adventure. I met up with a couple of Geocachers I have never met and spent 2 days traveliing and caching on Route 66. It was a blast with a couple of very enjoyable days with a couple of great people.
I have now ticked this one off my "Bucket List". I havent got the T-shirt yet but have picked up a couple of Geocoins. Would I do it again – not sure but probably would ……